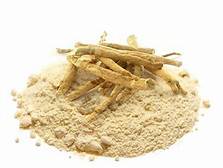 100% Natrual Ashwaganda Powder
Sale price
$12.99
Regular price
Experience Serenity with 100% Natural Ashwagandha Powder!
Discover the ultimate wellness secret in our 100% Natural Ashwagandha Powder. Sourced from the purest organic farms and rigorously 100% Natural, this ancient adaptogenic herb is nature's gift for restoring balance and vitality in your life.
Ashwaganda delivers a standardized extract of W. somnifera to support memory health and healthy cognitive function, a healthy stress response and overall well-being.
Benefits:
Stress Relief: Relieve stress and anxiety naturally, promoting a sense of calm in the midst of life's challenges.
Energy Rejuvenation: Boost your energy levels and stamina, helping you tackle your day with renewed vigor.
Enhanced Focus: Sharpen your cognitive function and mental clarity for improved productivity.
Adrenal Support: Nurture your adrenal health, improving resilience to daily stressors.
Quality Sleep: Enjoy restful sleep as Ashwagandha regulates sleep patterns, ensuring you wake up refreshed.
Immune Boost: Strengthen your immune system, fortifying your body's defenses against illnesses.
Recipes:
Ashwagandha Elixir: Mix a teaspoon with warm almond milk, honey, and a pinch of cinnamon for a soothing bedtime elixir.
Morning Vitality Smoothie: Blend into your favorite smoothie to start your day with a potent energy boost.
Stress-Busting Tea: Infuse in hot water with chamomile and lemon balm for a calming cup that melts stress away.
Experience the Natural Power of Ashwagandha Today! Elevate your well-being with our premium 100% Natural Ashwagandha Powder. Harness its holistic benefits and embrace a life of tranquility and vitality. Make the choice for your health now!
Transform Your Wellness Journey - Order Now!
100% Natrual Ashwaganda Powder
Sale price
$12.99
Regular price