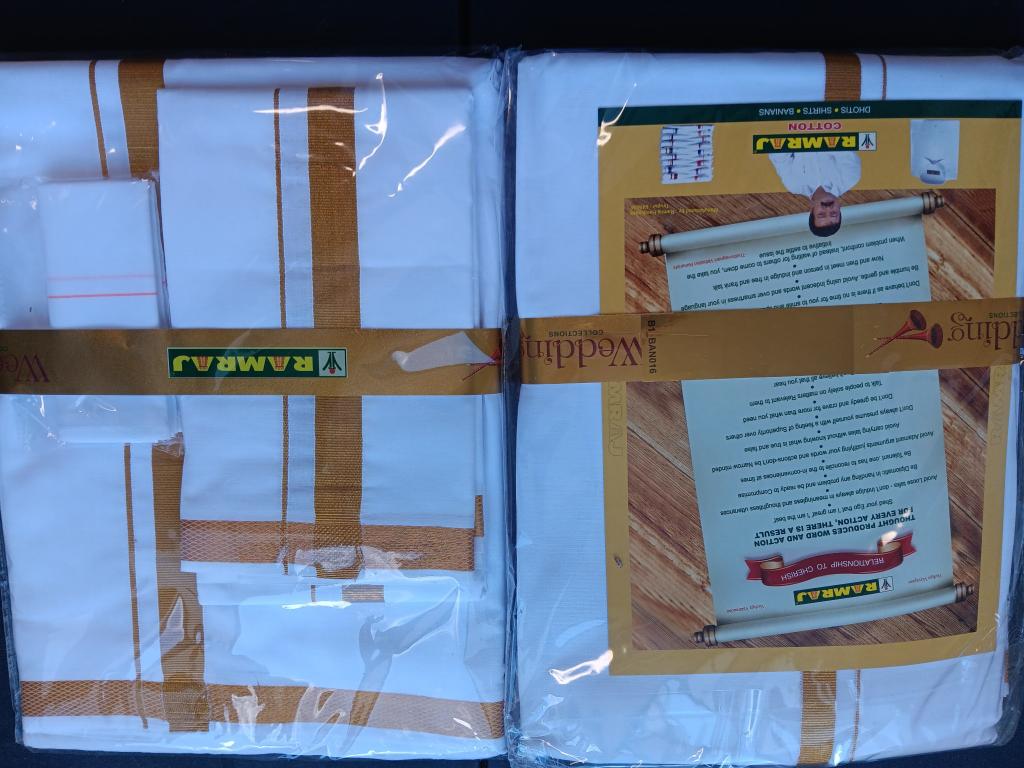 Acharya Dhoti and Vesti from Ramraj - White and gold border
Sale price
$49.99
Regular price
Acharya Dhoti and Vesti from Ramraj in White with Gold Border: Elegance Reimagined
---
Overview: Step into the world of timeless elegance with the Acharya Dhoti and Vesti from Ramraj, now available in a pristine white with a refined gold border. These traditional garments blend the ancient and the contemporary, offering the perfect attire for any special occasion or daily wear. The classic white is enhanced by the gold border, adding a touch of opulence to the simplicity of the dhoti and vesti.
---
Key Features:
Exquisite Craftsmanship: The Acharya Dhoti and Vesti are crafted from 100% high-quality cotton. The material allows your skin to breathe, ensuring unmatched comfort along with a luxurious feel.

Elegant Gold Border: The immaculate white fabric is adorned with a delicate gold border, adding a subtle richness to the garment. The gold detailing brings out a traditional charm, perfect for any ceremonial event.

Versatile and Comfortable: The lightweight and soft fabric allow easy movement and comfort, making it suitable for all occasions, whether it's a wedding, religious ceremony, or any cultural event.

Maintenance Made Easy: The Acharya Dhoti and Vesti with a gold border are easy to care for. A gentle hand or machine wash will retain the garment's elegance, ensuring it stays as good as new for a long time.
---
Size and Fit: Available in an array of sizes, the dhoti and vesti guarantee a perfect fit for everyone, conforming to your body's shape and ensuring that you look impeccably dressed for every occasion.
---
Conclusion: Add a royal touch to your traditional attire with the Acharya Dhoti and Vesti from Ramraj in white with a gold border. Immerse yourself in the world of sophistication and charm, ensuring that you always make a memorable impression.
Acharya Dhoti and Vesti from Ramraj - White and gold border
Sale price
$49.99
Regular price