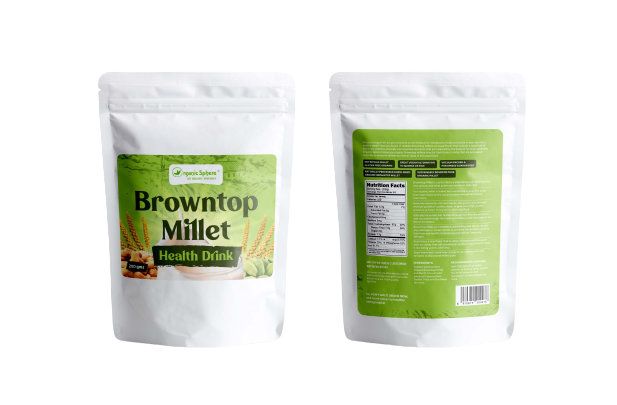 Browntop Millet - Health Drink Powder
Sale price
$6.99
Regular price
Browntop Millet Health Drink Powder 🌾 - A Nutrient-Rich Delight for Vitality and Wellness
Discover a realm of nourishing delight with our Browntop Millet Health Drink Powder - the epitome of wellness infused with irresistible flavor. Unveiling a symphony of purity and taste, this 100% natural blend of browntop millet is a testament to our commitment to your holistic health journey.
Benefits:
Nature's Bounty Preserved: Our browntop millet health drink powder retains the nutritive husk, packed with natural goodness that supports your well-being.
Abundant in Nutrients: High in fiber, essential minerals, and antioxidants, browntop millet promotes digestion, boosts metabolism, and fortifies your body's defenses.
Blood Sugar Management: The inherent properties of browntop millet can assist in regulating blood sugar levels, contributing to a balanced and energized lifestyle.
Easy Preparation: For optimal texture and taste, blend this healthful powder with water or your choice of milk. A simple step towards invigoration.
🍃 Culinary Inspiration: Browntop Millet Creations to Savor
Nutrient-Packed Breakfast Porridge: Elevate your mornings with a hearty porridge infused with the goodness of browntop millet. Top it with nuts, berries, and a drizzle of honey for an exquisite start to your day.

Savory Millet Pancakes: Delight in savory pancakes crafted from browntop millet powder. Enjoy a guilt-free indulgence, pairing them with fresh greens and a dollop of Greek yogurt.

Millet Energy Smoothie: Recharge your vitality with a refreshing millet-infused smoothie. Blend with fruits, spinach, and a splash of coconut water for an instant boost of nourishment.

Wholesome Millet Soup: Experience comfort in a bowl with a heartwarming millet soup. Laden with vegetables and aromatic herbs, it's a nurturing choice for any season.

Millet Delights: Indulge in the art of baking with browntop millet. Create muffins, cookies, and energy bars that redefine wholesome snacking, guilt-free.
 Elevate Your Well-being - Secure Your Browntop Millet Health Drink Powder Today!
Browntop Millet - Health Drink Powder
Sale price
$6.99
Regular price