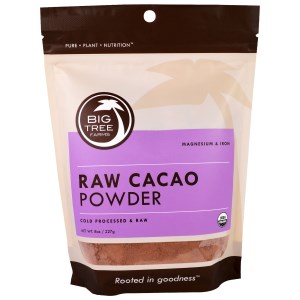 Sale price
$14.99
Regular price
🌼 Immerse Yourself in Wholesome Delight with Our 100% Pure Cacao Powder! 🍫
Discover a realm of exquisite indulgence with our 100% Pure Cacao Powder – the ultimate choice for discerning connoisseurs seeking both sumptuous flavor and nutritional bliss. Sourced from the finest organic cacao beans, this remarkable cacao powder is a culinary treasure, meticulously processed to elevate your taste experience and nourish your well-being.
Benefits:
Unadulterated Goodness: Our cacao powder is crafted from pure, unprocessed cacao beans, preserving their natural integrity and rich nutrients.
Abundant Nutrients: Packed with antioxidants, minerals, and dietary fiber, cacao powder offers a wholesome dose of goodness that supports overall health.
Delightful Creations: Unlock the full potential of flavor and aroma by adding a touch of our cacao powder to your recipes. Its velvety texture and deep taste will redefine your culinary creations.
Simple Indulgence: Whether in a morning smoothie, a delectable dessert, or a warming cup of hot cocoa, our cacao powder brings pure delight to every sip and bite.
🍫 Tempting Cacao Powder Recipes to Savor:
Decadent Dark Chocolate Smoothie: Blend together our 100% Pure Cacao Powder with banana, almond milk, and a hint of peanut butter for a lusciously rich and nutritious morning treat.

Cacao-infused Oatmeal: Elevate your breakfast game with a bowl of hearty oatmeal infused with the captivating flavor of cacao. Top with berries and nuts for a delightful crunch.

Velvety Cacao Avocado Mousse: Dive into the silky indulgence of a mousse made from ripe avocados and our cacao powder. A guilt-free dessert that's as luxurious as it is wholesome.

Cacao Bliss Energy Bites: Craft a batch of energy-boosting bites using dates, nuts, and a sprinkle of cacao powder. A perfect on-the-go snack to fuel your adventures.

Homemade Dark Hot Cocoa: Cozy up with a mug of rich, dark hot cocoa made from our cacao powder. Sweeten to taste and let the warmth embrace you.
🍴 Embark on a Journey of Flavorful Fulfillment, and Elevate Every Bite with Our 100% Pure Cacao Powder.
Embrace the richness of unadulterated cacao goodness. Elevate your culinary creations, invigorate your senses – ORDER NOW and experience the fusion of pure nature and delectable flavor in every dish. Your path to blissful indulgence begins here! 🍬
Cacao Powder
Sale price
$14.99
Regular price