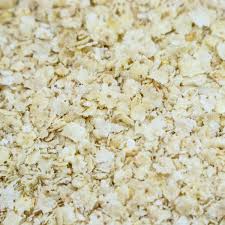 100% Natural Ragi Millet Rice Flakes (Poha)
Sale price
$11.99
Regular price
🌾 Introducing 100% Natural Ragi Millet Rice Flakes (Poha) - A Nutrient-Packed Delight! 🌾
Millet flakes are obtained by crushing the whole grain of millet - one of the oldest cereals grown by man. They are characterized by crunchiness and neutral taste. They are also universal!
🌱 Benefits:
Nutrient-Rich:

 Loaded with vitamins, minerals, and antioxidants that support overall well-being.
Gut-Friendly: Naturally easy to digest, aiding in better digestion and gut health.
Gluten-Free: An excellent choice for individuals with gluten sensitivities or celiac disease.
Low-Glycemic: Perfect for maintaining stable blood sugar levels throughout the day.
Embrace health without compromising on taste. Click below to order now and savor the pure essence of nature in every spoonful.
100% Natural Ragi Millet Rice Flakes (Poha)
Sale price
$11.99
Regular price