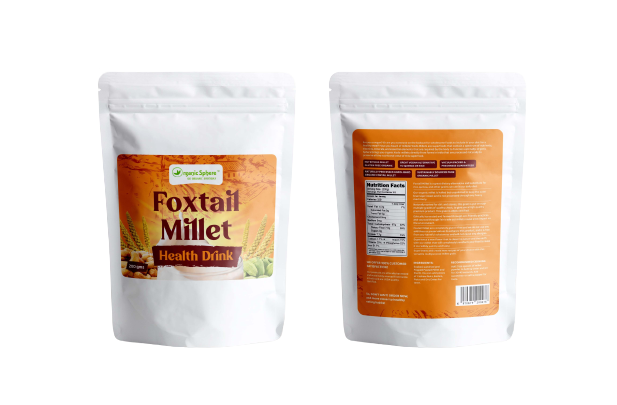 Foxtail Millet - Health Drink Powder
Sale price
$6.99
Regular price
Foxtail Millet Health Drink Powder - A Journey to Nourishment 🌾 Dive into a world of taste and wellness with our Foxtail Millet Health Drink Powder. Indulge in a natural beverage experience where flavorful delight meets simple ingredients.
Discover our Foxtail Millet Health Drink Powder – crafted for those who appreciate a blend of taste and nature. Sourced from pristine organic fields, these delicate millet grains showcase the richness of nature, processed to complement your daily routine.
Benefits:
Purely Natural: Our Foxtail Millet maintains its natural form, presenting you with its inherent properties.
Packed with Goodness: Foxtail Millet is a source of various nutrients, including dietary fiber.
Simple Preparation: Allow our Foxtail Millet Health Drink Powder to steep in hot water for a few minutes. Revel in its gentle aroma and flavor as it transforms your water into a comforting beverage.
🌾 Millet Drink Ideas to Explore:
Millet Matcha Elixir: Blend the distinct flavors of Foxtail Millet and matcha for a drink that captivates your senses.
Golden Turmeric Millet Brew: Combine the earthy warmth of turmeric with your millet drink for a smooth, aromatic experience.
Vanilla Almond Millet Delight: Begin your mornings with the harmonious blend of vanilla, almond, and millet, creating a beverage that's both delightful and nourishing.
Zesty Lemon Ginger Millet Infusion: Experience the vibrant pairing of lemon and ginger with the subtlety of Foxtail Millet.
Millet Lavender Dream: Let the calming scent of lavender complement the millet's natural essence for a tranquil drink experience.
🍵 Dive into the World of Millet Elevate your beverage game by exploring the varied and rich flavors of Foxtail Millet Health Drink Powder.
---
Always remember to consult with a health or nutrition professional for specific dietary advice or information.
__PRESENT
Foxtail Millet - Health Drink Powder
Sale price
$6.99
Regular price