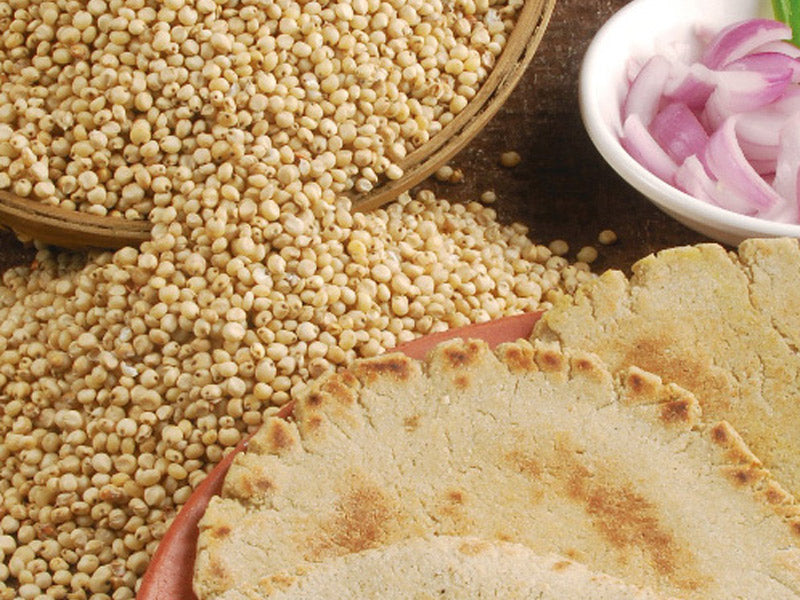 Fresh Milled (in US) Sprouted Organic Jowar/Sorghum Flour - 4.4 lbs
Sale price
$22.00
Regular price
🌾 Embark on a Journey of Nutrient-rich Delight with Our Fresh Milled Sprouted Organic Jowar/Sorghum Flour! 🌾
Unveil the epitome of wholesome indulgence with our Fresh Milled Sprouted Organic Jowar/Sorghum Flour – where purity intertwines seamlessly with irresistible taste. Introducing a flour that goes beyond the ordinary, sourced from the heart of organic farms in the USA. Elevate your culinary endeavors with this nutritional treasure, meticulously processed to redefine your cooking experience.
Benefits:
Preserving Nature's Goodness: Our sprouted organic Jowar/Sorghum flour is meticulously milled to retain the inherent goodness of the grain, embracing its natural sprouted form.

Abundant Nutrients: Packed with essential nutrients, this flour is a reservoir of dietary fiber, aiding in maintaining optimal sugar and cholesterol levels.

Texture Enhancement: Achieve the perfect consistency and taste by soaking our sprouted organic Jowar/Sorghum flour before use, unleashing its full potential.

Cooking Perfection: With a simple water-to-flour ratio and a touch of your favorite oil, create culinary wonders that leave an indelible mark on your taste buds.
🍞 Wholesome Jowar Creations to Savor:
Nutrient-Rich Rotis: Craft wholesome and nutritious rotis that redefine your everyday meal. The sprouted Jowar flour lends a unique flavor profile and chewy texture, making each bite a delight.

Savory Jowar Pancakes: Elevate your breakfast game with delectable Jowar pancakes, blended with fresh herbs and a medley of vegetables for a burst of flavors.

Jowar Tortillas with a Twist: Dive into the world of innovative cuisine by preparing soft Jowar tortillas that hold your favorite fillings – a healthy spin on a classic favorite.

Jowar Batter Delights: Create crispy dosas and delectable bhakris with our sprouted Jowar flour batter, offering a nutritious alternative to traditional recipes.

Jowar Delicacies, Sweetened: Indulge your sweet cravings guilt-free with luscious Jowar-based desserts. Explore the realm of creamy puddings and aromatic baked treats, reimagined with wholesome ingredients.
🍴 Immerse yourself in the realm of natural and nourishing goodness, and redefine your culinary journey with our Fresh Milled Sprouted Organic Jowar/Sorghum Flour.
Embrace the richness of sprouted Jowar/Sorghum flour. Elevate your cooking, revitalize your life – ORDER NOW and experience the fusion of nature and flavor in every bite. Your path to a healthier lifestyle begins right here!
Fresh Milled (in US) Sprouted Organic Jowar/Sorghum Flour - 4.4 lbs
Sale price
$22.00
Regular price