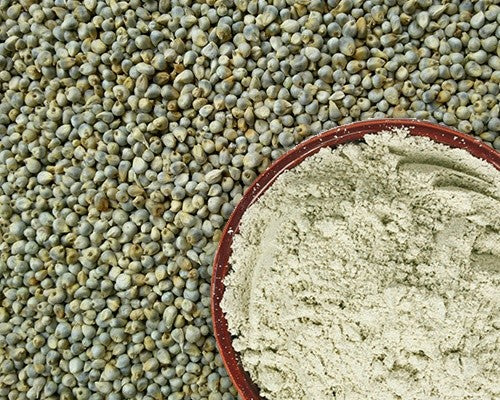 Fresh Milled Sprouted Organic Pearl Millet Bajri Flour
Sale price
$11.99
Regular price
Elevate your culinary creations with our Fresh Milled Sprouted Organic Bajri Flour – the secret to wholesome and flavorful meals that nourish both body and soul.
Bajra flour is made from the small round grains of black millet, also called bajra. The grains are dried and then processed into flour. When ground, the flour is greyish in colour and has a slightly nutty flavour. Since it is a heat-producing ingredient, it is commonly used in winters. Bajra is called pearl millet, which is one of the most common millets available. Rich in fiber, proteins and essential minerals, pearl millet flour is a healthy gluten-free alternative to wheat. The pearl millet is sprouted, sun dried and then freshly stone ground in the US.
Benefits:
Nutrient-Rich Goodness: Packed with vitamins, minerals, and antioxidants for optimal health.
Digestive Wellness: High fiber content supports a healthy digestive system and aids in weight management.
Gluten-Free Goodness: Perfect for those with gluten sensitivities or looking to explore gluten-free options.
Blood Sugar Balance: Low glycemic index helps maintain steady energy levels throughout the day.
Recipes:
Nutrient-Packed Porridge: Start your day with a nourishing bajri porridge, topped with fresh fruits and nuts.
Wholesome Flatbreads: Create soft and nutritious bajri rotis, perfect for pairing with curries and vegetables.
Hearty Pancakes: Whip up fluffy bajri pancakes for a delightful twist on a breakfast classic.
Savory Snacks: Craft crispy bajri crackers or savory muffins for guilt-free snacking.
Experience the exquisite taste and health benefits of Fresh Milled Sprouted Organic Bajri Flour. Elevate your culinary journey today – transform ordinary meals into extraordinary delights!