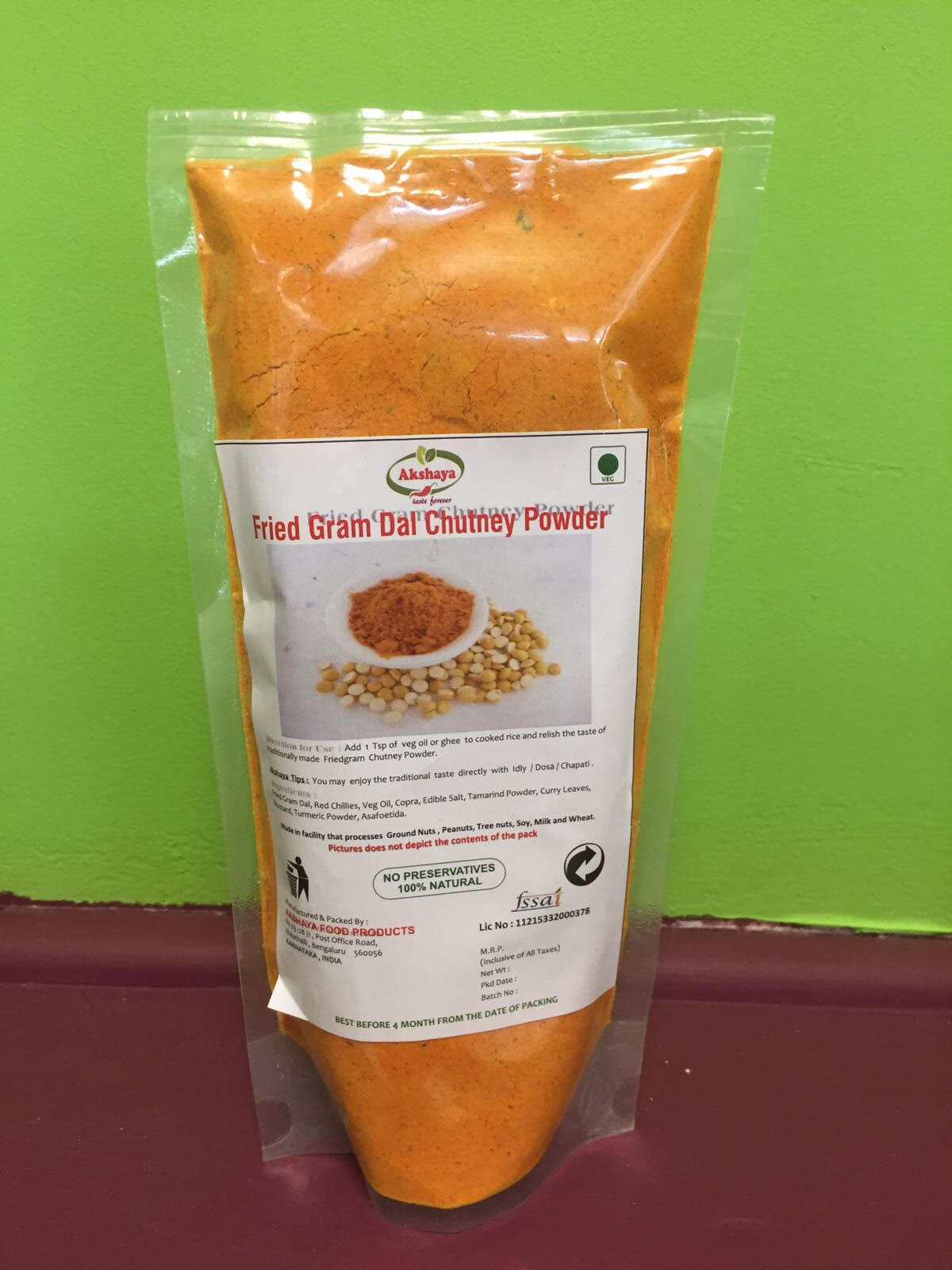 Fried Gram Chutney Powder
Sale price
$3.50
Regular price
Embark on a journey of culinary delight with our Fried Gram Chutney Powder 🌾, a symphony of flavors that will awaken your taste buds and redefine your snacking experience.
Introducing our handcrafted Fried Gram Chutney Powder – a tantalizing blend of roasted chickpea flour, aromatic spices, and a dash of tanginess, meticulously curated to elevate your snack time to a whole new level.
Features:
Wholesome Crunch: Crafted from premium quality fried gram (roasted chickpea) flour, this chutney powder offers a satisfying crunch that's perfect for munching anytime, anywhere.

Artisanal Blend: Our chutney powder is a result of age-old recipes and modern gastronomic expertise coming together. Each batch is carefully prepared to ensure a harmonious balance of flavors and textures.

Natural Goodness: We believe in preserving the purity of ingredients. That's why our Fried Gram Chutney Powder is free from artificial flavors, colors, and preservatives, letting you relish the authentic taste of nature.
Benefits:
Protein-Packed: Roasted chickpea flour is not only delicious but also a great source of plant-based protein, providing you with energy and nourishment in every bite.

Savory Delight: The medley of spices and herbs in our chutney powder creates a savory explosion that will awaken your palate and leave you craving for more.

Versatile Enjoyment: Sprinkle it on your favorite snacks, use it as a flavorful topping for salads, yogurt, or incorporate it into various recipes to add a unique twist.
Indulge in Culinary Creativity:
Chutney-Infused Sandwich: Elevate your everyday sandwich by spreading a layer of cream cheese or hummus, then generously sprinkle our Fried Gram Chutney Powder for an extra zing.

Chutney Fusion Pasta: Toss cooked pasta in olive oil, sprinkle chutney powder, and toss again for a fusion dish that marries Italian and Indian flavors.

Chutney Coated Nuts: Jazz up plain nuts by coating them in a mixture of our chutney powder and a hint of honey, then roasting them to crunchy perfection.

Chutney-Topped Avocado Toast: Smash ripe avocado on whole-grain toast and top it with a sprinkle of chutney powder for a satisfying breakfast or snack.

Chutney Popcorn Extravaganza: Drizzle popcorn with melted butter or ghee, generously sprinkle chutney powder, and shake well for an addictive movie night treat.
Embrace the Exquisite Fusion:
Delve into the realm of exquisite flavors and elevate your snacking experience with our Fried Gram Chutney Powder. Unveil a world where tradition meets innovation, and where each bite tells a story of craftsmanship and taste.
Order Now: Immerse yourself in the irresistible allure of our Fried Gram Chutney Powder. Elevate your snacking, energize your taste buds – ORDER NOW and experience the artistry of flavor in every bite. Your journey to a new realm of snacking starts here!
Fried Gram Chutney Powder
Sale price
$3.50
Regular price