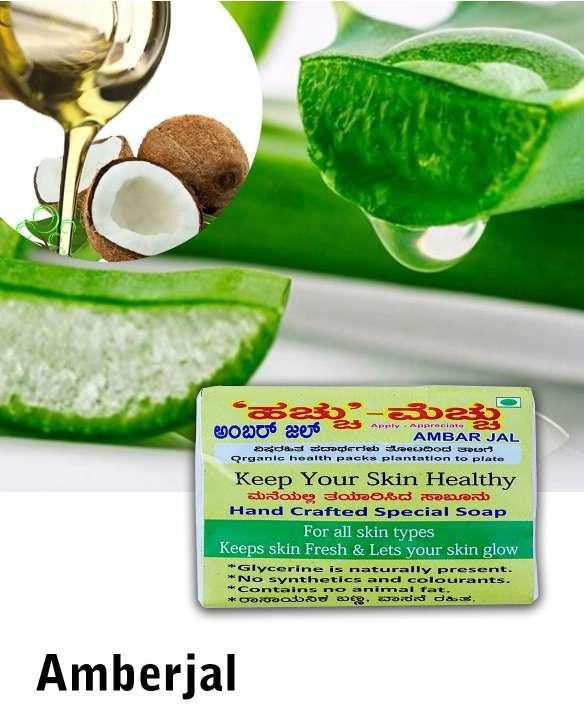 Handmade Ambarjal Soap(90g)
Sale price
$2.99
Regular price
🌾 Introducing Handmade Ambarjal Soap (90g) – Where Nature Meets Nourishment 🌾
Indulge in the artistry of pure and nourishing skincare with our Handmade Ambarjal Soap. Crafted meticulously to rejuvenate your skin, this exquisite soap is a symphony of natural ingredients that elevate your bathing experience to new heights.
Benefits:
Pure Ingredients, Pure Care: Our Handmade Ambarjal Soap is meticulously crafted using only the finest natural ingredients. No harsh chemicals or artificial additives – just wholesome goodness for your skin.

Nature's Nourishment: Enriched with the essence of Ambarjal, a time-honored botanical treasure, this soap bestows your skin with a delicate touch of nature's nourishment.

Gentle Cleansing: Experience the tender embrace of nature as this soap gently cleanses, leaving your skin feeling refreshed and rejuvenated after each use.

Aromatic Aura: The soothing aroma of Ambarjal creates a serene ambiance, turning your bathing routine into a sensorial journey that relaxes both body and mind.
🌿 Enrich Your Bathing Ritual:
Ambarjal Bliss Body Cleanse: Let the natural ingredients of our Handmade Ambarjal Soap envelop you in a luxurious lather. Allow the gentle cleansing to wash away the stresses of the day, leaving you revitalized.

Nurturing Nature Shower: Revel in the pure essence of nature as you indulge in a shower that invigorates your senses and nurtures your skin. The Ambarjal-infused formula pampers your skin, making each shower a spa-like experience.

Tranquil Moments Bath: Immerse yourself in a bath enriched with the Ambarjal Soap's fragrant whispers. Close your eyes and let the calming aroma transport you to a tranquil oasis of relaxation.

Radiant Revival Skincare: Incorporate the Handmade Ambarjal Soap into your skincare routine for a touch of natural radiance. Its gentle formulation helps maintain the skin's natural glow.

Harmony with Nature: Experience the synergy of handmade craftsmanship and the purity of Ambarjal in every wash. It's not just a soap; it's a testament to embracing the beauty of nature.
🌸 Elevate Your Skincare Experience:
Rediscover the joy of bathing with Handmade Ambarjal Soap – a masterpiece born from the heart of nature. Let each use be a reminder of the delicate balance between skincare and the bounties of the earth.
🛒 Order now and embark on a journey of skin-deep nourishment. Elevate your bathing ritual with Handmade Ambarjal Soap – where nature's artistry meets skincare perfection. Your path to radiant and rejuvenated skin begins here! 🛁
Handmade Ambarjal Soap(90g)
Sale price
$2.99
Regular price