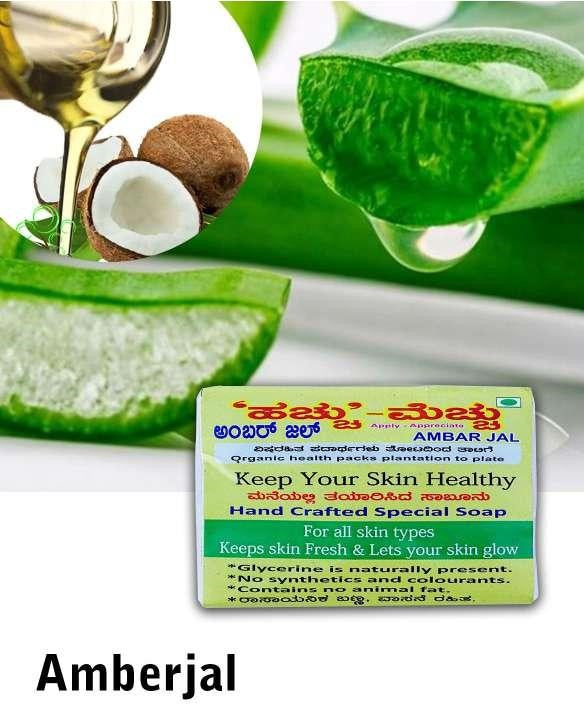 Handmade Ambarjal Soap(90g) - Pack of 12
Sale price
$35.77
Regular price
🌾 Elevate Your Daily Ritual with Handmade Ambarjal Soap 🌾
Indulge in a luxurious bathing experience like no other with our Handmade Ambarjal Soap (90g) - Pack of 12. Step into a realm where purity intertwines with exquisite fragrance, brought to you by the finest natural ingredients meticulously crafted to pamper your skin.
Unveil the Artisanal Craftsmanship:
Immerse yourself in the captivating world of handcrafted skincare. Our Handmade Ambarjal Soap is a result of skillful artistry and a commitment to quality. Each bar is carefully molded to perfection, bearing the mark of artisanal excellence that guarantees a bathing encounter beyond the ordinary.
🌼 Natural Elegance in Every Bar:
Experience the tender embrace of nature with every lather. Enriched with the goodness of premium botanical extracts, our soap is a symphony of delightful fragrances that awaken your senses and rejuvenate your spirit. Let the soothing touch of Handmade Ambarjal Soap transport you to a world of tranquility and opulence.
Benefits that Nourish and Renew:
🌿 Gentle Cleansing: Let the natural ingredients cleanse your skin without harshness, leaving it feeling refreshed and revitalized.
🌸 Moisture Magic: Indulge in the moisturizing caress that replenishes your skin's hydration, unveiling a soft and supple radiance.
🍃 Skin Vitality: Infused with botanical wonders, our soap invigorates your skin, enhancing its natural vibrancy and glow.
🌱 A Sensory Journey of Aromatherapy:
With every use, our Handmade Ambarjal Soap envelops you in a sensorial journey. The delicate aroma uplifts your mood and offers a moment of serenity amidst the chaos of daily life. Let the luxurious fragrance transform your bathing routine into an indulgent ritual of self-care.
🌺 Immerse Yourself in Opulence:
Picture a bath adorned with Handmade Ambarjal Soap, where opulent bubbles embrace your skin, and the exquisite aroma transcends you to a realm of pure relaxation. This pack of 12 soap bars ensures that your bathing indulgence is a sustained experience of luxury.
🎁 The Perfect Gift of Luxury:
Share the gift of ultimate pampering with your loved ones. Handmade Ambarjal Soap (90g) - Pack of 12 is a thoughtful gesture that speaks volumes about your care for their well-being.
Elevate your bathing routine to an art form. Unwind, rejuvenate, and bask in the lap of handmade luxury. Order now and immerse yourself in the world of Handmade Ambarjal Soap. Your journey to skin wellness begins here!
Handmade Ambarjal Soap(90g) - Pack of 12
Sale price
$35.77
Regular price