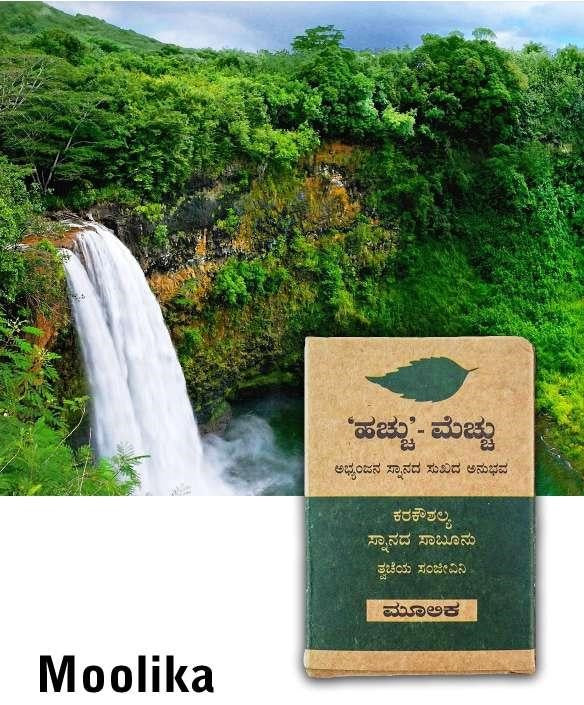 Handmade Moolika Soap(90g) - Pack of 12
Sale price
$35.77
Regular price
🌾 Introducing Handmade Moolika Soap (90g) - Pack of 12: Immerse Yourself in Organic Luxury 🌾
Indulge in the artistry of Handmade Moolika Soap, where nature's purity converges with exquisite craftsmanship. Elevate your daily skincare routine with this Pack of 12, each bar meticulously handcrafted to provide you with a rejuvenating bathing experience like no other.
Unveil the Natural Goodness: Handmade with care, Moolika Soap is a testament to the beauty of simplicity. Each bar is a blend of carefully chosen, all-natural ingredients that nourish your skin while soothing your senses. Just like the layers of unpolished brown rice, our soap retains the essence of its components, leaving your skin feeling embraced by nature's bounty.
Benefits for Your Skin: 🌼 Gentle Nourishment: Embrace the tender touch of nature as our soap's natural ingredients gently cleanse and nourish your skin, revealing its natural radiance.
🌼 Rich in Goodness: Packed with the goodness of organic elements, Moolika Soap pampers your skin with essential nutrients, leaving it supple, moisturized, and refreshed.
🌼 Holistic Care: Like soaking brown rice to enhance its flavor, our soap indulges your skin with a therapeutic experience, revitalizing your senses and promoting a sense of well-being.
🌼 Timeless Fragrance: Immerse yourself in the delicate, natural fragrance that accompanies each use. Experience the harmony of ingredients that creates an aura of tranquility.
🌼 Sustainable Craftsmanship: Handmade with love and care, each bar embodies our commitment to sustainable practices, ensuring that your journey towards healthier skin aligns with the well-being of the planet.
Embrace the Experience: 🌿 Lavender Fields: Let the soothing lavender scent transport you to serene fields, as the soap's gentle lather caresses your skin, cleansing away the stresses of the day.
🌿 Citrus Zest: Energize your senses with the invigorating burst of citrus, while the soap's natural richness leaves your skin feeling rejuvenated and velvety-smooth.
🌿 Oatmeal Comfort: Experience the gentle exfoliation of oatmeal as it revitalizes your skin. The soap's creamy texture and earthy aroma create a cocoon of comfort.
🌿 Honey Alchemy: Envelop yourself in the warmth of honey's embrace. Our soap's golden hue and sweet aroma turn your bathing ritual into a luxurious treat.
Elevate your daily skincare routine with the Handmade Moolika Soap (90g) - Pack of 12. Immerse yourself in the essence of nature's finest ingredients, lovingly crafted to rejuvenate and enrich your skin. Transform each bath into a moment of self-care, embracing the world of organic luxury.
🛒 Order Now: Embark on a journey to discover the art of natural skincare. Let the enchanting fusion of nature and craftsmanship elevate your bathing ritual to new heights. Your skin deserves this wholesome indulgence!
Handmade Moolika Soap(90g) - Pack of 12
Sale price
$35.77
Regular price