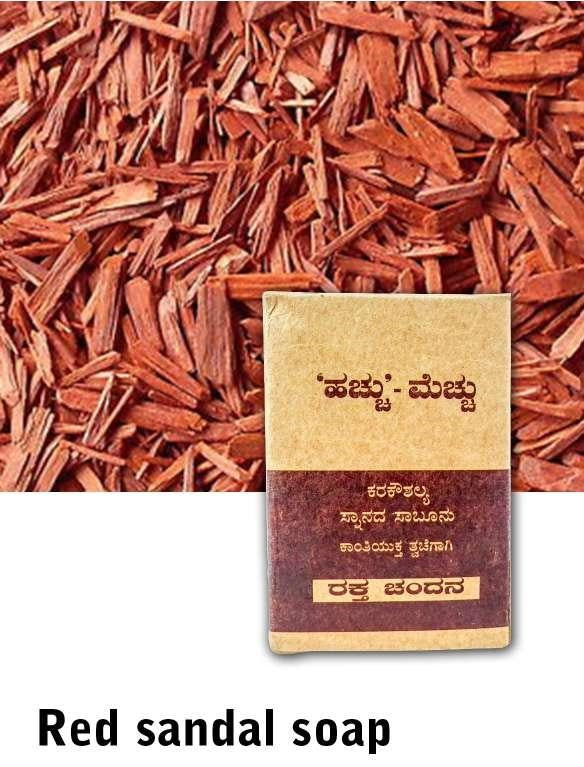 Handmade Red Sandal Soap(90g)
Sale price
$2.99
Regular price
🌿 Immerse Yourself in Pure Luxury with Handmade Red Sandal Soap (90g) 🌿
Step into a realm of pure indulgence and pampering with our Handmade Red Sandal Soap. Crafted with care and precision, this exquisite soap is a testament to the harmonious blend of nature's finest ingredients and the artisan's touch. Each lather unveils a world of wholesome decadence, where luxury meets the nourishing embrace of red sandal.
Experience the Elegance of Handmade Red Sandal Soap:
🌸 Enchanting Aroma: Let the enchanting aroma of red sandalwood transport you to serene landscapes, creating a sensorial journey that soothes your senses and calms your mind.
🌼 Purity in Every Bar: Our soap is meticulously handcrafted to ensure the preservation of the red sandal's natural goodness. With each use, your skin enjoys the purity of ingredients sourced from the heart of nature.
🌺 Nourish and Rejuvenate: Red sandalwood is renowned for its skin-loving properties. It's rich in antioxidants that help rejuvenate your skin, leaving it with a healthy, radiant glow.
Benefits of Handmade Red Sandal Soap:
🌱 Holistic Skincare: Red sandalwood's natural properties gently cleanse, while its soothing touch promotes balanced and supple skin, making this soap perfect for all skin types.
🌾 Aromatic Escape: Immerse yourself in the aromatic embrace of red sandalwood, turning your daily skincare routine into a fragrant journey of tranquility.
🌿 Ethical Craftsmanship: Our soap is meticulously handmade, crafted with a commitment to ethical practices and quality. No two bars are the same, adding a touch of uniqueness to your skincare regimen.
🛁 Elevate Your Self-Care Ritual:
Red Sandalwood Serenity Bath: Let the stresses of the day melt away as you indulge in a calming bath with our soap. Allow the gentle fragrance to envelop you, transforming your bath into a serene spa-like experience.

Nourishing Body Cleanse: Gently cleanse your body with the creamy lather, knowing that you're treating your skin to the purity of red sandalwood's timeless secrets.

Soothing Skincare: Incorporate the soap into your daily skincare routine for a touch of nature's elegance. Revel in the gentle caress that leaves your skin feeling soft and revitalized.

Gift of Luxury: Share the gift of luxurious self-care with loved ones. Handmade Red Sandal Soap is a thoughtful present that shows you care about their well-being.
🌾 Embrace the Elegance of Handmade Red Sandal Soap:
Elevate your self-care routine to an unparalleled level of luxury with Handmade Red Sandal Soap. Discover the beauty of holistic skincare that only nature and craftsmanship combined can provide. Reveal your skin's radiant glow and embrace the purity that only red sandalwood can offer.
🌟 Elevate Your Self-Care: Immerse yourself in the opulence of Handmade Red Sandal Soap. Elevate your skincare journey – ORDER NOW and experience the exquisite fusion of nature and luxury in every use. Your path to indulgent self-care begins here!**
Handmade Red Sandal Soap(90g)
Sale price
$2.99
Regular price