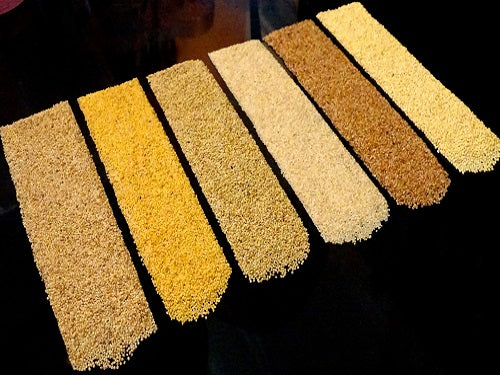 Sale price
$5.99
Regular price
All millets are Organic and cultivated through sustainable farming means. No chemicals or pesticides are used in these millets. These are Unpolished millet which are soaked, sun dried and packed. The color is not dark brown but a faint light brown. Please be very sure that you want to order this.
HEALTH BENEFITS:
· Its Dietary fiber protects against hyperglycemia.
· It reduces cholesterol and helps in digestion.
· Has nearly 2.5 times minerals and nearly 38 times fiber and nearly 13 times Iron than Rice.
· Has nearly 6.3 times fiber and nearly 1.8 times Iron than Wheat.
· Has less amount of carbohydrates than Wheat and rice and has abundant quantities of Thiamin (Vitamin B1) which is not present in Rice and Wheat.
· Helps lowers the risk of type 2 diabetes
· Reduces chances of heart attacks
· Improves digestion
· Protects from breast cancer
· protects childhood asthma
NUTRITION FACTS:
Nutrition Information Per 100gms
| | |
| --- | --- |
| PRINCIPLE | NUTRIENT VALUE |
| Calories | 207 |
| Minerals | 1.5g |
| Carbohydrate | 65 g |
| Protein | 7.7g |
| Fiber | 7.6g |
| Iron | 9.3mg |
| Calcium | 17mg |
Kodo Millet Parboiled
Sale price
$5.99
Regular price