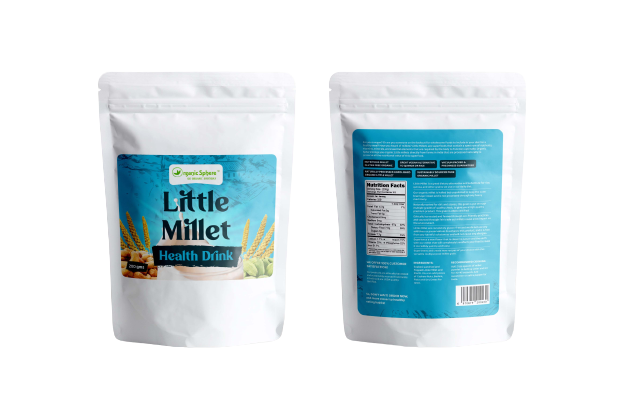 Little Millet - Health Drink Powder
Sale price
$6.99
Regular price
Little Millet - Nutrient-Packed Health Drink Powder 🌾 Uncover a realm of nourishing delight with our Little Millet Health Drink Powder – a blend that harmonizes purity with exquisite taste. Welcome to the epitome of wellness indulgence.
Presenting our Little Millet Health Drink Powder – an unrivaled choice for health enthusiasts in pursuit of both delectable flavors and holistic nourishment. Harvested from pristine organic fields, this extraordinary millet treasure stands as a bastion of nutrition, thoughtfully curated to elevate your culinary escapades.
Benefits:
Unadulterated Goodness: Little Millet, with its untouched hull, retains its outer layer, a tawny-hued coat that enshrines the millet kernel.
Rich Nutritional Profile: Brimming with essential nutrients, Little Millet boasts high fiber content that aids in regulating blood sugar and cholesterol levels.
Enhancing Flavor and Texture: To enhance its natural taste and texture, immerse your organic Little Millet in water for 20-30 minutes before cooking.
Culinary Proportions: While preparing, embrace a water-to-millet ratio of 2:1, enlivened with a pinch of salt and a dash of oil.
🍚 Delectable Little Millet Recipes to Savor:
Little Millet Pilaf with Fresh Herbs: Immerse yourself in the aromatic symphony of parsley, cilantro, and dill intermingling with perfectly cooked Little Millet. An ideal accompaniment to any entrée.

Stir-fried Little Millet with Garden Fresh Vegetables: Embark on a crunchy expedition through bell peppers, snap peas, and carrots, stir-fried alongside our Little Millet and adorned with a drizzle of soy sauce.

Zesty Little Millet Salad with Lemon Vinaigrette: Relish a revitalizing salad uniting Little Millet, cucumber, cherry tomatoes, and feta. Elevated with a zingy lemon vinaigrette, it epitomizes summer's charm.

Little Millet and Lentil Soup: Find solace in the heartiness of this soup that marries the wholesomeness of Little Millet with protein-rich lentils. A symphony of spices renders it a year-round comfort.

Creamy Little Millet Pudding: Indulge your sweet cravings with this dessert that transforms Little Millet into sheer decadence. Enveloped in milk, sugar, and a whisper of vanilla, it's a treat that gratifies the senses while nurturing the body.
🍴 Embark on a Voyage of Natural Wellness: Elevate your culinary pursuits with the bounteous goodness of our Little Millet.
Embrace the essence of 100% natural Little Millet. Elevate your culinary escapades, invigorate your existence – PLACE YOUR ORDER NOW and immerse yourself in the fusion of nature's bounty and palate-pleasing allure in every meal. Your odyssey towards a healthier lifestyle commences right here!
Little Millet - Health Drink Powder
Sale price
$6.99
Regular price