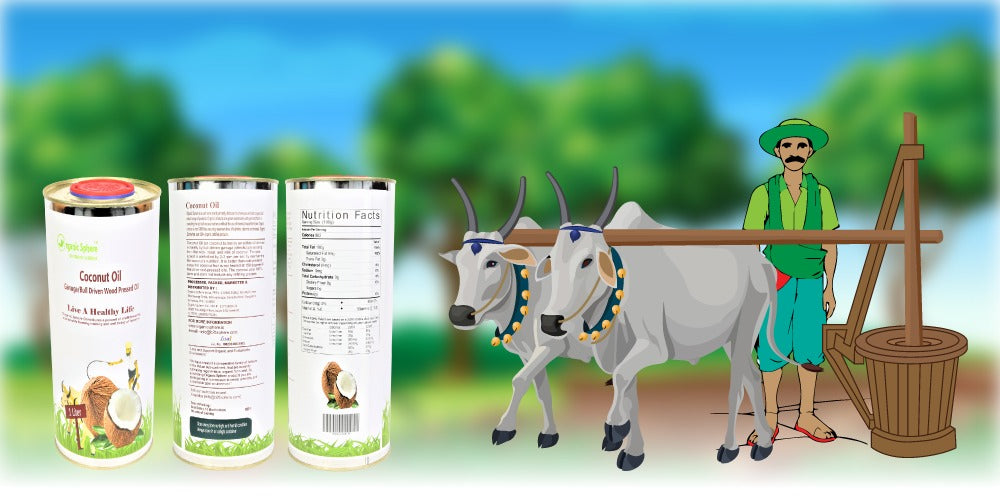 Organic Sphere's Bull-Driven Coconut Oil: 100% Pure & Natural - Versatile Unrefined Coconut Oil for Cooking, Hair, & Skin - Free from Additives
Sale price
$18.99
Regular price
Founded in 2016, we at Organic Sphere are driven to deliver healthy products that are beneficial to the lives of our customers and also sustainable for our planet in the long run. We care deeply about the community and want to help people access a nourishing lifestyle through our high-quality affordable products. Organic Sphere pure organic coconut oil produced through bull-driven extraction is a rich source of nutrition to the body that is extremely beneficial without any major side effects.
ORGANIC SPHERE BULL DRIVEN GANUGA COCONUT OIL


Made from the finest quality dried coconut (copra), our oil is milled at very low temperatures that prevent the destruction of essential nutrients.


Better than cold press oils, our ganuga coconut oil has a higher concentration of medium chain triglycerides and antioxidants.


This oil is great for cooking a variety of Indian, African, South American, and Asian Cuisines, and also great for grilling meat or fish.


You can consume a small amount of oil daily on empty stomach to help body metabolism, promote weight loss, and keep you healthy overall.


Coconut oil is also great for your hair as it will penetrate the roots making the strands strong, flexible, and damage free.


Using this oil for body massage is sure to keep your skin hydrated moisturized and glowing. The oil will form a thin film over your skin preventing environmental factors from damaging your skin.


Switch to a healthy lifestyle and fortify your well-being to make it ailment free with our pure coconut oil.


TRADITIONALLY EXTRACTED COCONUT OIL – Organic Sphere Bull Driven Pure Natural Coconut Oil is naturally extracted from the dried wick and meat of the fruit by the ancient bull-driven oil extraction method. Known for retaining the exceptionally high nutritive content of the original ingredients, ganuga oils are incredibly aromatic and delicious.
SUPERIOR to COLD PRESSED OILS – Unlike cold processing that involves temperatures of up to 150°F, the bull-driven or ganuga oil extraction method extricates the oil by mechanically processing the raw materials at a low temperature below 27⁰C and speed between 2-3 rpm to preserve the many healthful benefits of the coconut.
TROPICAL GOODNESS – A great source of antioxidants and MCTs, raw coconut oil is known to have several health benefits like immune function support, help in reducing hunger, better skin and hair health, and so much more! Keep yourself more energized and feel healthy with our coconut oil that is cholesterol free and will not cause any side effects.
PURE AND UNREFINED – Free from any unnecessary additives, harmful preservatives, or other substances; our 100% pure coconut oil is made from only the best-quality organic dried coconuts. Packaged in steel or glass containers with BPA-free plastic caps to preserve the freshness, our unrefined coconut oil is available in 1-liter or 5-liter cans.
MULTIPURPOSE ORGANIC COCONUT OIL – This pure coconut oil for cooking with a distinct flavor reminiscent of golden sandy beaches and deep blue seas is sure to enhance the flavor and give a unique twist to any dish you make and is sure to transform your cooking experience. You can also use this coconut oil (skin) for your haircare and skincare routines.  
WE OFFER A 100% CUSTOMER SATISFACTION GUARANTEE ON ALL YOUR PURCHASES!
All our products are manufactured using natural ingredients through traditional processes in facilities adhering to strict compliance and quality standards to maintain authenticity.
So, why wait? ORDER NOW, add some flavor to your cooking, and boost your health with our pure organic coconut oil.
KEYWORDS


coconut oil


bull driven


natural coconut oil


bull-driven oil extraction


ganuga oils


cold pressed oils


raw coconut oil


unrefined coconut oil


coconut oil (skin)


100% pure coconut oil


coconut oil for cooking


Organic Sphere's Bull-Driven Coconut Oil: 100% Pure & Natural - Versatile Unrefined Coconut Oil for Cooking, Hair, & Skin - Free from Additives
Sale price
$18.99
Regular price