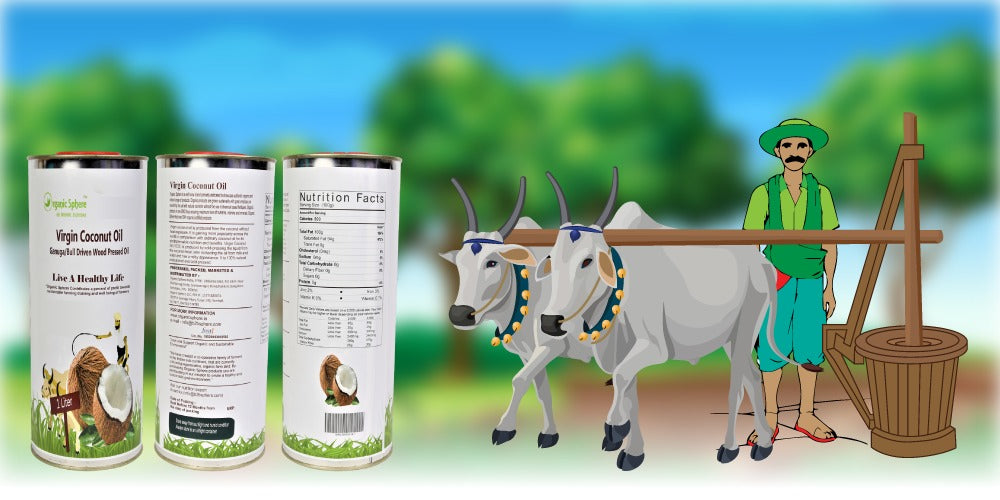 Organic Sphere's Bull-Driven Virgin Coconut Oil: Nutrient-Rich, Organic Extra Virgin Coconut Essence
Sale price
$18.99
Regular price
Founded in 2016, we at Organic Sphere are driven to deliver healthy products that are beneficial to the lives of our customers and also sustainable for our planet in the long run. We care deeply about the community and want to help people access a nourishing lifestyle through our high-quality affordable products. Our bull-driven organic virgin coconut oil is sure to be one of the only purest forms of coconut oil available anywhere on the market and is a rich source of nutrition to the body.
ORGANIC SPHERE BULL-DRIVEN GANUGA VIRGIN COCONUT OIL


Made from sustainably sourced fresh organic coconuts our coconut oil is very pure and free from any additives or preservatives and is completely unrefined.


Processed using manual oil pressing technology using a wooden oil press that is rotated using a bull that walks around in circles to crush the oil seeds. This method presses the oil at temperatures below 27⁰C, preventing any loss of nutritional value, and minimal rotations per minute controlling overheating.


This oil is better than cold pressed oils and is the purest form of oil that can be extracted from the coconut.


Available in a 32FL OZ pack, this oil is great for stir-frying, deep frying, or even grilling meat, fish, and more! Add a unique flavor to your food with this oil.


Coconut oil is packed with rich nutrients that will benefit your hair and skin. With deep moisturizing properties coconut oil will keep your skin hydrated while helping damage repair.


EXTRA PURE VIRGIN COCONUT OIL – Do you know that even when oils are cold pressed there is a  heat of up to 65⁰C  generated that can destroy the nutritional value of the coconut? You can now enjoy 100% natural pure Bull driven ganuga organic virgin coconut oil from Organic Sphere that is better than cold pressed oils and is much healthier with all the goodness preserved.
AGE OLD BULL DRIVEN TECHNOLOGY – Keeping in mind the health and well-being of everyone and enabling people to transform their lives to live ailment free, our bull driven oil uses the traditional methods of milling oil using a wooden oil press that is operated by a bull. This helps process the oil at extremely low temperatures below 27⁰C and slower rotation to prevent any loss of nutrients.
MULTIPLE HEALTH BENEFITS – Made from premium quality fresh organic coconuts and free from any additives, enhancers, or preservatives, our extra virgin coconut oil is cholesterol free and contains lauric acid that helps support immune function. A rich source of medium chain triglycerides that provide a quick source of energy to the body, this coconut oil is packed with antioxidants that have anti-inflammatory properties.
GREAT FOR YOUR SKIN & HAIR –  Organic Coconut oil has been used since forever in many cultures to protect the skin and hair. Penetrating deep into your hair strands to strengthen the follicle from the root giving them flexibility and luster this virgin coconut oil for hair growth is sure to give you thick strong locks. Keep your skin moisturized and hydrated to prevent any damage with this virgin coconut oil for skin.
FLAVORFUL COOKING OIL – With a deep and strong aroma that can magically activate unique flavors, coconut oil is a great oil for your daily cooking. Used in a variety of cuisines including Indian, South American, African, and Asian, this coconut oil for cooking will give your cooking more versatility but not overpower the entire dish. You can also safely consume a spoon of our natural coconut oil on an empty stomach to stay fit.  
WE OFFER A 100% CUSTOMER SATISFACTION GUARANTEE ON ALL YOUR PURCHASES!
All our products are made using the finest quality organic ingredients in facilities adhering to strict compliance and manufacturing regulations.
So, don't wait! ORDER NOW, and experience the pure goodness of coconuts with our flavorful ganuga coconut oil!
KEYWORDS


virgin coconut oil


bull driven


organic virgin coconut oil


cold pressed oils


bull driven oil


wooden oil press


extra virgin coconut oil


coconut oil


organic coconut oil


virgin coconut oil for hair growth


virgin coconut oil for skin


coconut oil for cooking


natural coconut oil


Organic Sphere's Bull-Driven Virgin Coconut Oil: Nutrient-Rich, Organic Extra Virgin Coconut Essence
Sale price
$18.99
Regular price