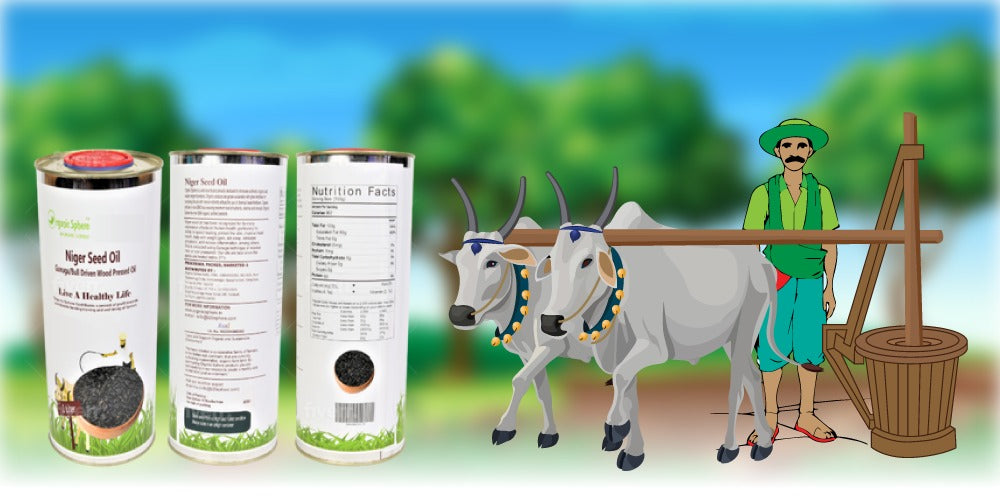 Organic Sphere's Ganuga Bull-Driven Niger Seed Oil: Authentic Organic Black Seed Extract - Pure & Nutrient-Rich to Enhance Immunity
Sale price
$15.99
Regular price
Oils form a major part of our daily diet and using healthy oils that will not cause side effects like high cholesterol, fat buildup, blood pressure and more is essential. Organic Sphere brings you Organic Ganuga Bull driven Niger seed oil that is much better than even cold pressed oil and is packed with all the nutrients and beneficial compounds for the body. Transform your health and don't feel heavy after eating an oily meal with Organic Sphere natural Niger seed oil.
ORGANIC SPHERE BULL DRIVEN NIGER SEED OIL


Our oil is extracted through traditional methods that have been designed to process the oil using a wooden press that is driven by a bull which rotates the press at a slow pace preventing any overheating of the seeds in turn, pressing the oil at low temperatures to preserve all the goodness.


You can easily tell that our oils are superior to any oil you may have used through the aroma and flavor that the oil gives out.


Used in African and Indian cuisine, Niger oil is a healthy and economical alternative to other cooking oils where the niger seed is grown in abundance.


You can protect your body from various lifestyle-related problems and other ailments by using this bull driven oil regularly in your diet.


Fortify your immune system and keep yourself in great shape while feeling energized and refreshed after every meal with our organic niger seed oil.


REAP THE BENEFITS OF AGE-OLD KNOWLEDGE – Organic Sphere Niger Seed Bull Driven Oil is carefully extracted at a very low speed in a wooden press powered by bovines, thereby resulting in an end product that retains much of the original nutritional content and aroma – titillate your taste buds with the REAL FLAVORS of our artisanal oils!
NO LOSS OF NUTRIENTS OR FLAVOR – Unlike the processing method of cold pressed oils that involves subjecting raw materials to high temperatures up to 65°C/149°F, bull-driven oil extraction keeps the extraction temperatures within 27°C/80.6°F to provide you with the maximum advantages of blackseed oil.
HEALTHFUL ELIXIR – Among the many purported benefits of niger seed oil, the most important ones are the skin protection property, inflammation-reducing capability, and a sleep-promoting effect. Oil extracted from the niger seeds is typically 30% of the weight, which in turn helps keep the cost of oil low and makes it an economical cooking oil.
MADE WITH CARE – Produced from only the finest quality and carefully sourced niger seeds or black seeds, our niger seed oil for cooking/ black seed oil (pure & premium) is free from any unnecessary additives, harmful preservatives, or other substances. Available in 250 ml, 500 ml, and 1 liter; this black seed oil to boost immune system is an absolute must-have.  
WE OFFER A 100% CUSTOMER SATISFACTION GUARANTEE ON ALL YOUR PURCHASES!
All our products are manufactured from the finest pure and uncontaminated ingredients in facilities that adhere to strict compliance and stringent quality standards.
So, What are you waiting for? ORDER NOW, to receive our organic Niger seed oil and add some flavor to your cooking.
ABOUT ORGANIC SPHERE – Founded in 2016, we at Organic Sphere believe that Sattvic food is not just great for health but also sustainable for growers in the long run. We care about the community and firmly believe that it is our social responsibility to deliver great products to our consumers at an affordable price.
KEYWORDS


bull driven oil


artisanal oils


blackseed oil


niger seed oil


niger seeds


niger seed oil for cooking


black seed oil (pure & premium)


black seed oil to boost immune system