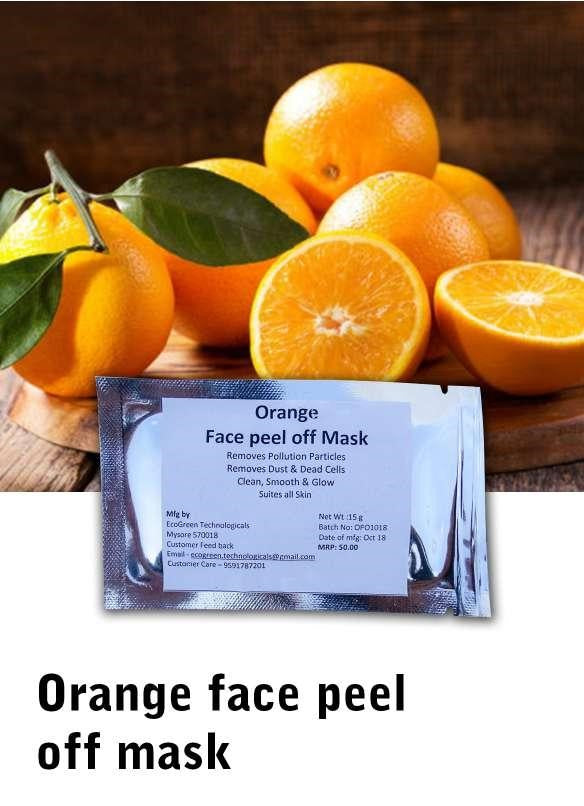 Peel Off Mask - Orange (15g) Pack of 24
Sale price
$23.99
Regular price
🌼 Reveal Radiant Skin with our Orange Peel Off Mask (15g) - Pack of 24! 🌼
Unveil a world of rejuvenation and beauty with our Orange Peel Off Mask, where skincare meets delightful indulgence. Introducing our revitalizing Orange Peel Off Mask – the ultimate choice for skincare enthusiasts seeking both vibrant radiance and nourishing care. Crafted from the finest natural ingredients, this exquisite peel-off mask is a skin-loving powerhouse, meticulously designed to elevate your self-care routine.
Benefits:
Infused with Real Orange Zest: Our peel-off mask is enriched with the goodness of real orange zest, known for its vitamin C and antioxidant properties that promote a healthy, youthful glow.
Gently Removes Impurities: The mask adheres to impurities and dead skin cells, delicately peeling them away, revealing a refreshed complexion that's soft to the touch.
Nourishes and Hydrates: Packed with natural extracts, the mask helps nourish and hydrate your skin, leaving it feeling rejuvenated and revitalized.
Easy Application and Removal: Our peel-off formula ensures easy application and removal, making your skincare routine a breeze.
🍊 Indulge in the Zesty Goodness of Orange-Inspired Skincare: 🍊
Citrus Glow Boost Facial: Experience the power of citrus with this invigorating facial. Apply a thin layer of our Orange Peel Off Mask and let its zesty aroma transport you to a citrus orchard. Peel away to reveal skin that's refreshed and radiant.

Revitalizing Citrus Bath: Add a twist of citrus to your skincare regimen. Apply the mask to your body, focusing on areas that need some extra care. Peel off to reveal skin that's hydrated and revitalized.

Tropical Citrus Spa Day: Create your own spa escape at home. Apply the mask, then sit back and relax as its refreshing scent uplifts your senses. Peel off to uncover skin that's smoother and more luminous.

Fruit-Infused Self-Care Ritual: Make self-care a daily ritual. Apply the mask, taking a moment to enjoy its fruity aroma. As you peel it off, let go of stress and reveal skin that's glowing with natural radiance.

Sun-Kissed Rejuvenation: After a day in the sun, treat your skin to a burst of citrus goodness. Apply the mask and let it cool and soothe your skin. Peel away to unveil skin that's refreshed and ready to take on the world.
🍊 Dive into the world of natural and revitalizing skincare, and elevate your self-care routine with our Orange Peel Off Mask.
Embrace the radiance of our Orange Peel Off Mask. Elevate your skincare, embrace your beauty – ORDER NOW and experience the fusion of nature and revitalization in every peel. Your journey to radiant skin starts here! 🍊
Peel Off Mask - Orange (15g) Pack of 24
Sale price
$23.99
Regular price