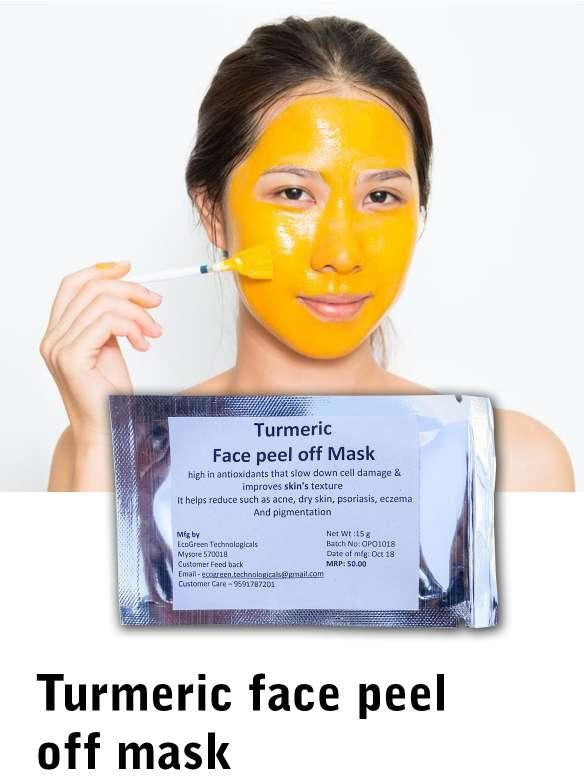 Peel Off Mask - Turmeric (15g) Pack of 12
Sale price
$23.99
Regular price
🌼 Reveal Radiant Skin with Our Turmeric Peel Off Mask (15g) Pack of 12! 🌼
Unveil a world of skincare indulgence with our Turmeric Peel Off Mask - a luxurious blend of natural ingredients designed to transform your skincare routine into a nourishing experience. Crafted with care, this pack of 12 masks offers you a radiant journey to healthier, glowing skin.
Benefits:
🌱 Nature's Essence: Our Turmeric Peel Off Mask is enriched with the goodness of turmeric, renowned for its antioxidant and anti-inflammatory properties. It gently purifies and rejuvenates your skin, unveiling a natural radiance that turns heads.
💧 Deep Cleansing: Experience the magic of deep cleansing as the mask adheres to impurities, excess oil, and pollutants, lifting them away when you peel it off. Your skin will thank you for the revitalizing detox it deserves.
🌞 Glow Unleashed: Uncover a sunlit glow that comes from within. The powerful combination of natural ingredients in our mask helps promote a youthful complexion, leaving your skin looking and feeling its best.
🌼 Elevated Skincare Ritual: Elevate your self-care routine to a whole new level. With our Turmeric Peel Off Mask, you're not just pampering your skin – you're giving it the nourishing embrace it craves.
Directions for Use:
Prep & Apply: Cleanse your face thoroughly and pat dry. Apply a thin, even layer of the Turmeric Peel Off Mask, avoiding the delicate eye and lip areas.

Relax & Rejuvenate: Allow the mask to dry for 15-20 minutes. During this time, kick back and let the natural ingredients work their magic, providing your skin with the TLC it deserves.

Peel Away Impurities: Once the mask is completely dry, gently start peeling it off from the edges. Experience the satisfaction as it lifts away dead skin cells, leaving you with a smoother canvas.

Glow On: Admire the radiant glow that emerges after each use. For best results, incorporate our Turmeric Peel Off Mask into your skincare routine 2-3 times a week.
🌼 Experience the Magic:
Turmeric Delight Facial: Treat your skin to a spa-like experience at home. Apply the mask, then sit back and relax as the turmeric unveils its magic, leaving you with skin that feels renewed and refreshed.

Brightening Bliss: Revel in the luminosity as the mask gently brightens your complexion, revealing a natural glow that's perfect for any occasion.

Timeless Beauty: Incorporate the Turmeric Peel Off Mask into your skincare regimen and witness the transformation over time. Embrace skin that exudes youthful vitality and timeless beauty.
🌻 Embrace the Radiance: Elevate your skincare routine and let your skin glow with confidence. Order your pack of 12 Turmeric Peel Off Masks now and embark on a journey to unveil your skin's true radiance. Your path to healthier, glowing skin starts here!**
Peel Off Mask - Turmeric (15g) Pack of 12
Sale price
$23.99
Regular price