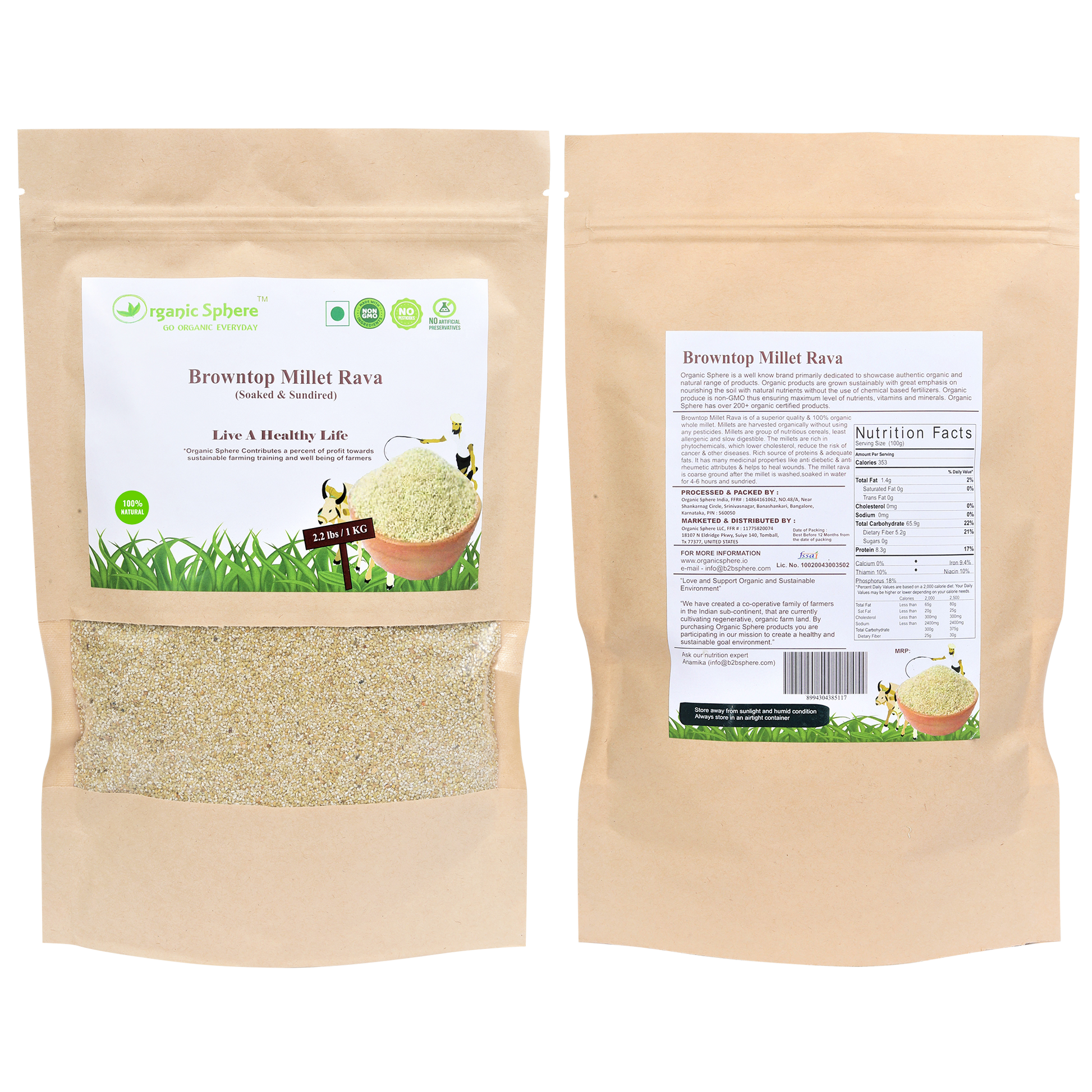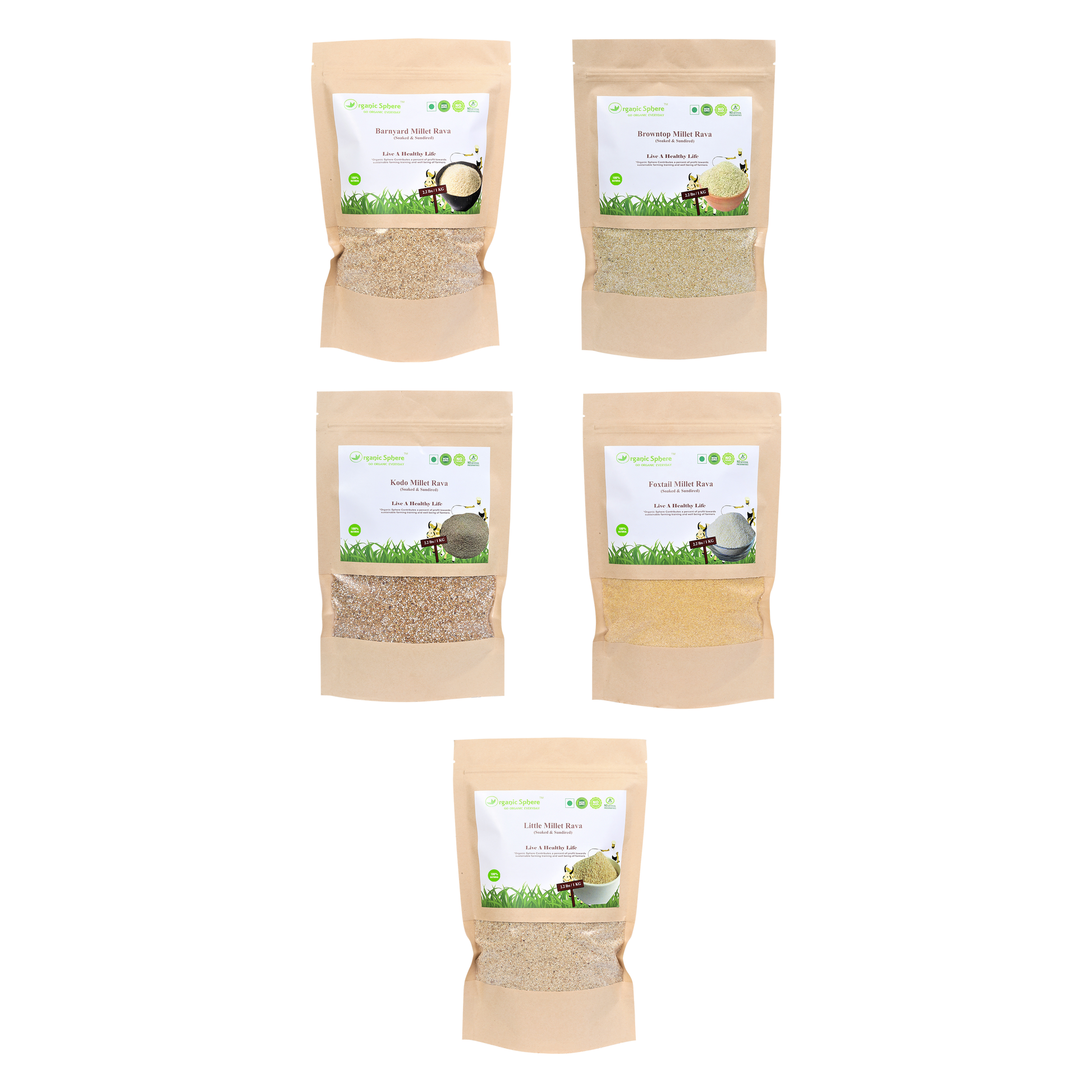 Fresh Soaked, sundried Browntop Millet Rava (Course ground) vegan, gluten-free
Sale price
$11.99
Regular price
Are you inclined towards a vegan diet? Or are you searching for natural foods that can be a valuable addition to your daily meals? Ever come across millets? Millets, in their natural form, are nutrient-dense foods packed with essential vitamins, minerals, and elements vital for optimal bodily functions. Organic Sphere presents to you natural millets (Browntop) sourced directly from farms in India. These millets are processed in a way that retains their inherent nutritional goodness.

ORGANIC SPHERE Unpolished Browntop MILLET (Buchi Method Processed) Rava / Sooji / Coarse flour (Course stone ground in the US)

Millet (Indian variety) serves as an excellent dietary replacement for rice, quinoa, and other common grains.

Our millet is hulled but retains its natural outer bran layer, ensuring the grain's nutrient richness. No heavy machinery is involved in its processing.

Sorted naturally to eliminate dirt and stones, this grain undergoes rigorous quality checks, culminating in a premium-quality product. This grain is 100% Natural certified.

Ethically sourced and cultivated using environmentally friendly methods, our millets have minimal environmental impact.

Millets are naturally gluten-free. We refrain from adding any additives or preservatives, ensuring the product remains free from any harmful elements and potential allergens.

Savor a unique taste, one that connects you with nature and the earth, with our millet. It promises to elevate your culinary experiences.

Dive into a world of culinary exploration with this versatile grain, and craft recipes that reflect your palate.

NUTRITIOUS MILLET GLUTEN FREE NATURAL – Tired of countless diet regimes? Embrace a nourishing meal that addresses most of your nutritional needs with our browntop millet (100% Natural)! Known to be dense in protein, carbs, dietary fiber, and essential amino acids, millets also boast a rich content of various vitamins & minerals. Experience the wholesome benefits of our naturally processed millet over other treated variants.

NATURALLY PROCESSED UNPOLISHED BROWNTOP MILLET – We prioritize the grain's inherent nutrition. Our browntop millet undergoes no additive or preservative treatments. Sorted naturally for impurities, this millet retains its outer bran layer post-dehulling, ensuring prolonged freshness, increased dietary fiber, and enhanced shelf life.

SUSTAINABLY SOURCED PURE NATURAL MILLET – Ethically procured from farms in India's rural heartlands, this natural millet has been contributing to women's empowerment since 2016. Our grain bears the 100% Natural certification, testament to our adherence to stringent quality norms at every stage. Committed to delivering only the best, we aim to provide a product that influences positive change.

A DELIGHTFUL VEGAN SUBSTITUTE TO QUINOA OR RICE – Diversify your meals with this delectable browntop millet. Perfect as a rice or quinoa replacement, this millet can be ground to a flour or cooked as is. Being plant-based, craft delightful dishes like millet idli, millet pasta, or millet dosa with a veggie twist.

VACUUM PACKED FOR ASSURED FRESHNESS – Offered in a 1kg pack, this natural millet grain is vacuum-sealed to guarantee prolonged freshness. Once opened, store the grain in an airtight container to avoid rapid spoilage. Enjoy unparalleled nutrition at producer prices with our cooking millet grain.

RECOMMENDED COOKING METHOD

Post washing, the millet rava is sundried following a 4-6 hour soaking.

CUSTOMER SATISFACTION IS OUR PRIORITY!

We stand by the ethical and sustainable practices that bring our products from Indian farms to your kitchen.

DON'T DELAY! ORDER NOW, and embark on a journey of natural and healthy eating!
Fresh Soaked, sundried Browntop Millet Rava (Course ground) vegan, gluten-free
Sale price
$11.99
Regular price