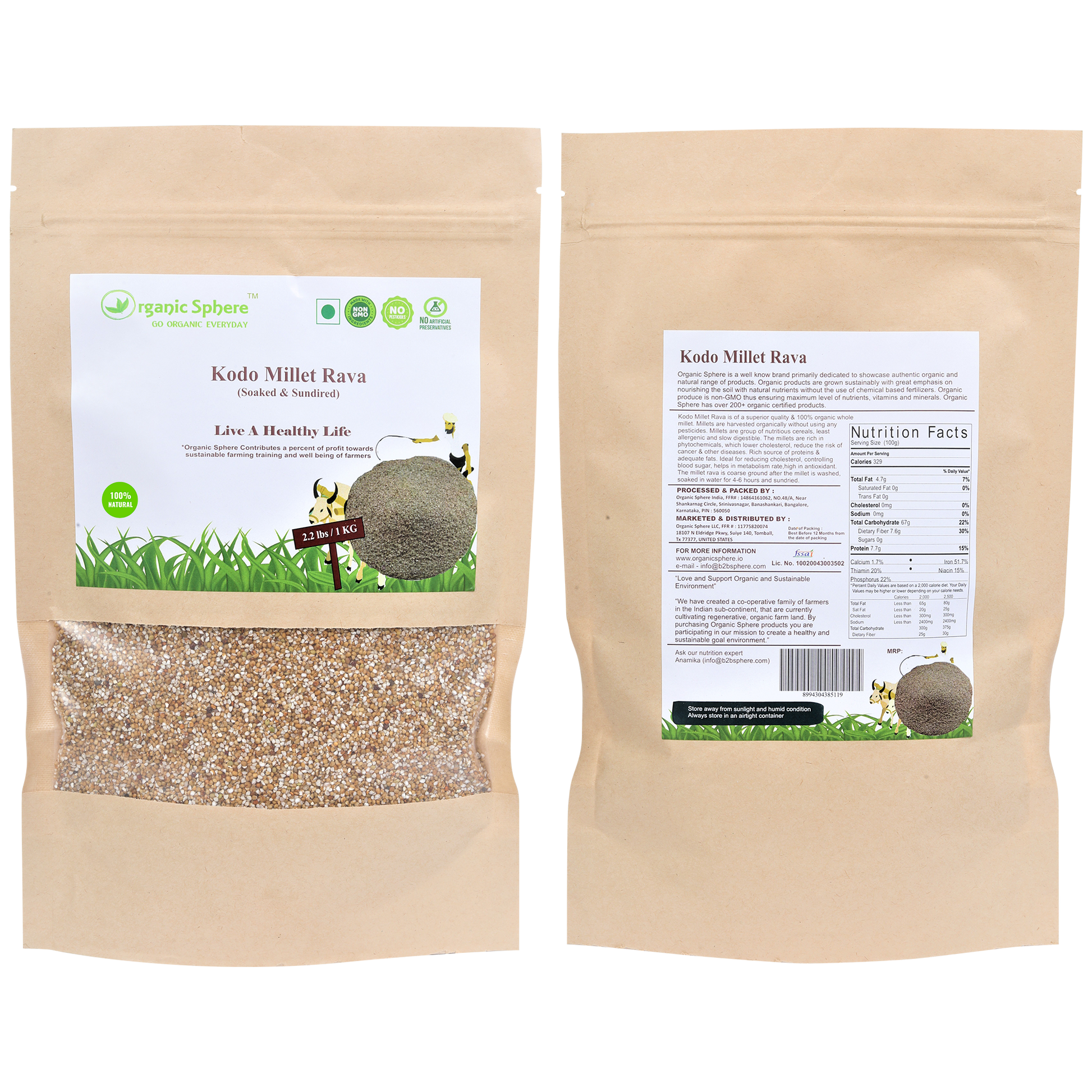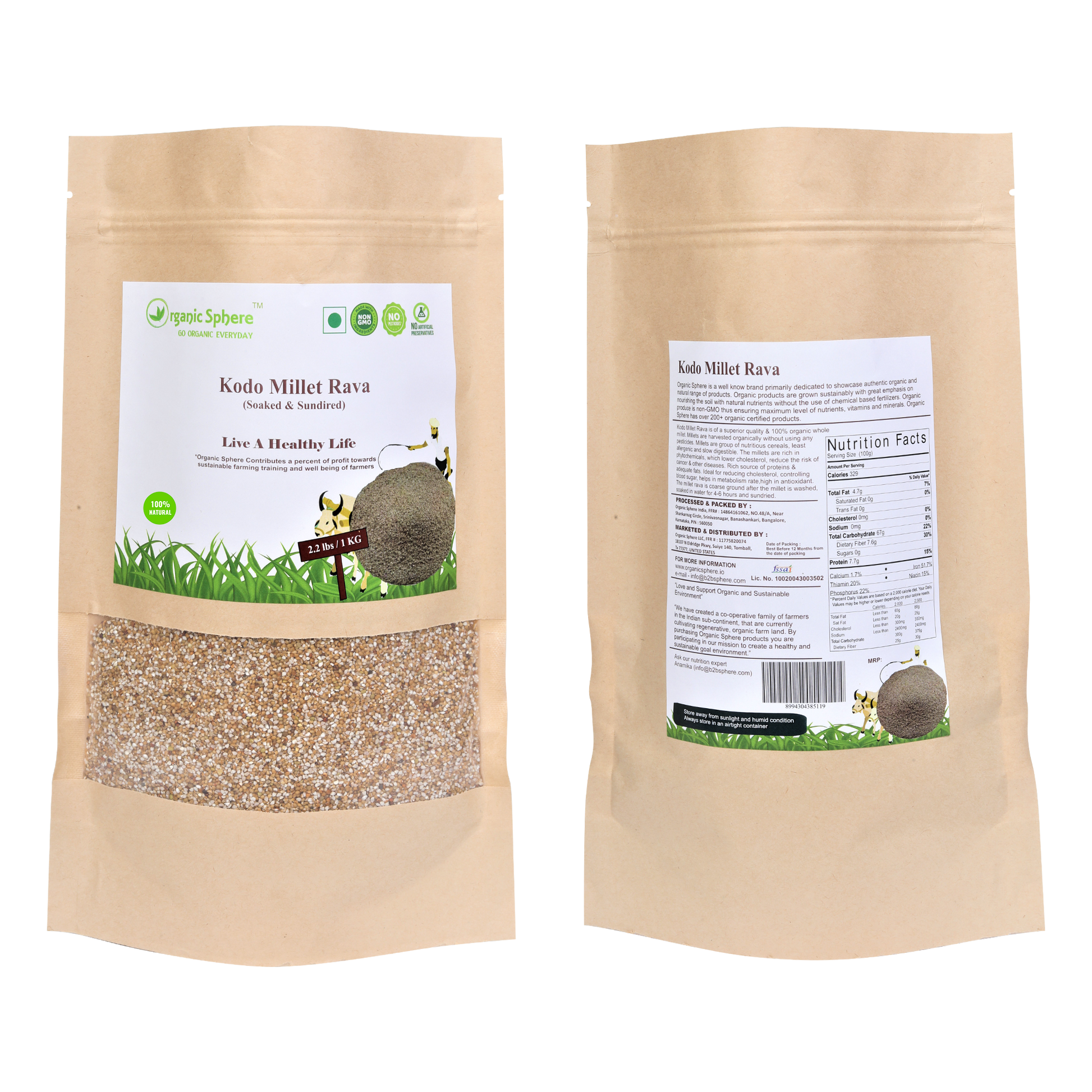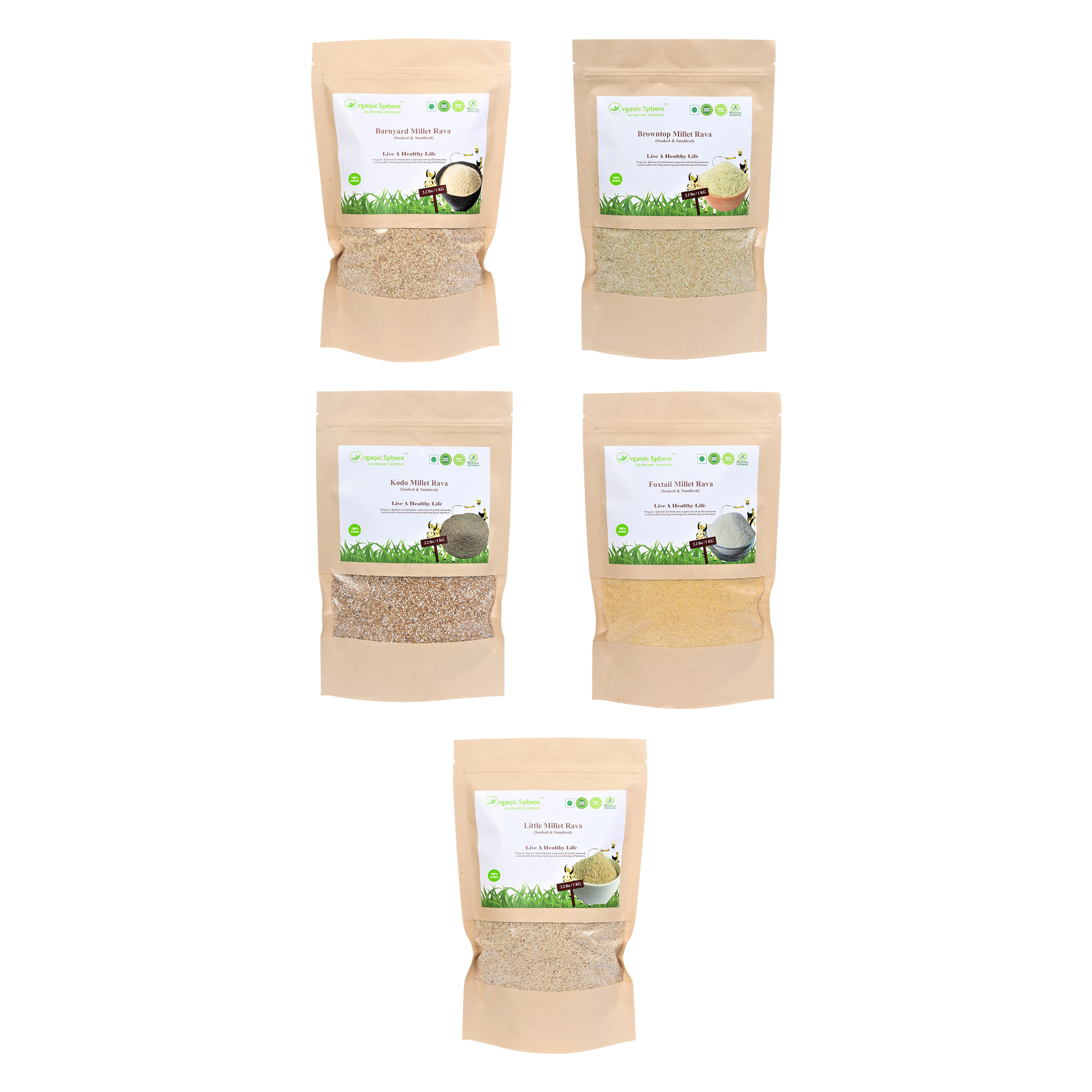 Fresh Soaked, sundried Kodo Millet Rava (coarse ground)
Sale price
$8.99
Regular price
Are you a vegan? Or are you someone on the lookout for wholesome foods to include in your diet for a healthy meal? Have you heard of millets? Millets (100% Natural) are superfoods that contain a spectrum of nutrients, vitamins, minerals, and essential elements that are required by the body to function optimally. Organic Sphere brings you 100% Natural millets (Kodo) directly from farms in India that are processed naturally to preserve all the nutritional value of this superfood.
Efficacy
: The kodo millet is endowed with the ability to cleanse the bone marrow (the area responsible for the production of blood).vBy consuming this grain, any health issue related to blood components can be healed, including anemia, blood cancer, low platelet counts, etc.
ORGANIC SPHERE Buchi method processed and unpolished KODO MILLET FLOUR (Coarse ground in the US)
Millet (Indian type) is a great dietary alternative and substitute for rice, quinoa, and other grains we use in our daily diet.
Our

100% Natural

millet is hulled but unpolished to keep the outer bran layer intact and is not processed through any heavy machinery.
Naturally sorted for dirt and stones, this grain is put through multiple grades of quality check, to give you a high-quality premium product. This grain is 100% Natural.
Ethically harvested and farmed through eco-friendly practices and sourced through fair trade our millets cause a low impact on the environment.
Millets(kitchen) are completely gluten-free and we do not use any additives or preservatives to enhance this product, and it is free from any harmful substances and will not cause any allergies.
Experience a new flavor that is closer to nature and the earth with our millet that will completely transform your food to make it incredibly yummy and tasty.
Experiment and create new recipes of your choice with this versatile multipurpose millet grain.
NUTRITIOUS MILLET GLUTEN FREE

100% Natural
 – Tired of dieting & trying every other food to maintain a healthy diet? Now enjoy a wholesome meal that covers most of your nutrition requirements with our Foxtail millet (
100% Natural
)! Millets are a great source of protein, carbohydrate, dietary fiber, and essential amino acids, and are also rich in many vitamins & minerals – our
100% Natural
millet grain offers superior nutritional value over pearled & parboiled millets and you can experience the difference.
NATURALLY PROCESSED UNPOLISHED

100% Natural

 Kodo MILLET
– Preserving all the nutritious elements, this kodo millet (
100% Natural
) is processed without using any additives or preservatives. Naturally sorted to remove stones and dirt, our unpolished kodo millet
100% Natural
(Indian) is only dehulled keeping the outer bran layer intact to give you the best grain that has an increased shelf life, high dietary fiber content, and will stay fresh for longer – FRESH millet grain (whole).
SUSTAINABLY SOURCED PURE

100% Natural

MILLET
– Ethically harvested from
100% Natural
farms in rural India, this
100% Natural
millet grain (gluten-free) is sourced directly from farmers and has been helping empower women since 2016. Our millet grain is
100% Natural
certified and is subject to strict compliance and stringent quality standards through all the stages of its lifecycle! We strive to give our customers a wholesome, healthy, and safe product that can bring a positive impact.
GREAT VEGAN ALTERNATIVE TO QUINOA OR RICE
– You can now expand your flavor profile to newer superfoods with this
100% Natural
kodo millet which is very tasty and can be used as a substitute for rice, quinoa, or any other grains. This Indian millet can be ground into flour or used as it is to be cooked like rice. Completely plant-based this millet(
100% Natural
) can be used to make delicious millet idli, millet pasta, millet dosa/pancakes loaded with veggies, and enjoy a filling and sumptuous meal.
VACUUM PACKED & FRESHNESS GUARANTEED
– Available in a 1kg pack, this
100% Natural
millet (whole grain) has been carefully vacuum packed to lock and preserve the freshness of the grain for a longer period of time. Once opened, it is recommended to store the
100% Natural
millet grain in an air-tight container to prevent quick spoilage. You now get a direct producer's price while also enjoying the excellent nutritional value offered by our millet grain for cooking.
RECOMMENDED COOKING METHOD
The millet rava is coarse ground after the millet is washed, soaked in water for 4-6 hours and sundried.
WE OFFER A 100% CUSTOMER SATISFACTION!
Our products are ethically harvested and sustainably sourced from farms in India and are
100% Natural
certified.
So, DON'T WAIT! ORDER NOW, and move closer to healthy eating habits!
Go for this product when you want to make Pulao, Pongal, Dosa, Upma, Kheer, and Idli    
Fresh Soaked, sundried Kodo Millet Rava (coarse ground)
Sale price
$8.99
Regular price