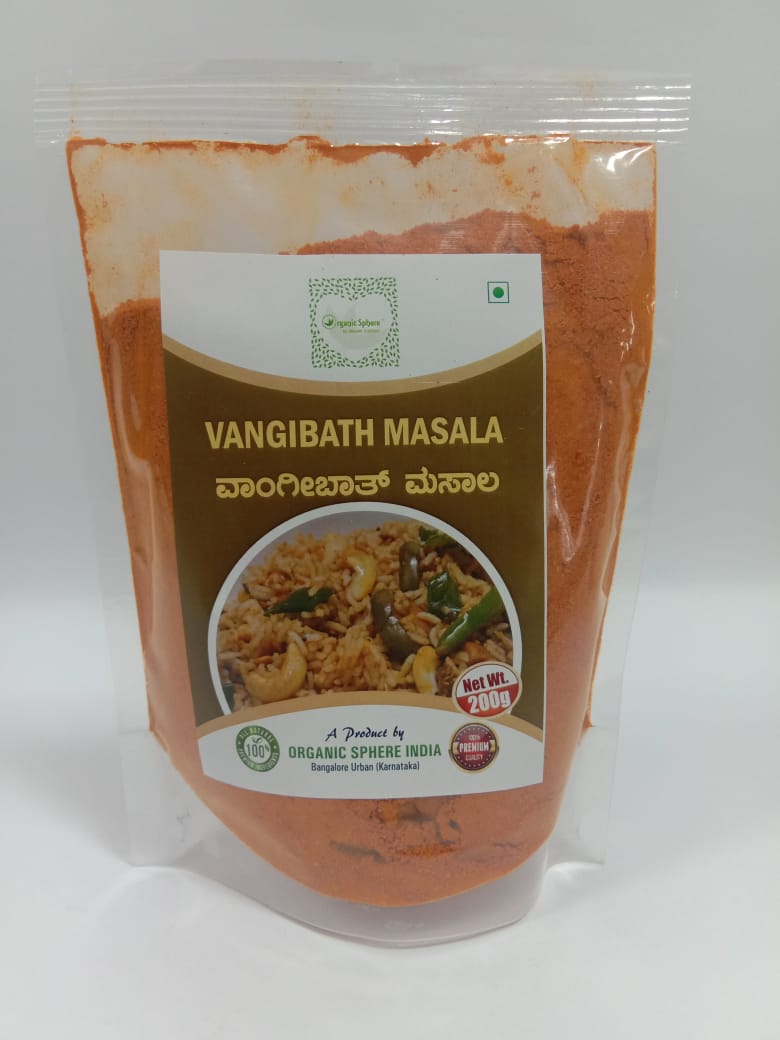 Vangibath Powder / Masala
Sale price
$3.99
Regular price
🌾 Unveil a World of Wholesome Indulgence 🌾
Introducing our meticulously crafted Vangibath Powder/Masala, a treasure trove of 100% natural and handpicked ingredients that harmoniously blend to create a tapestry of taste. With each sprinkle, you'll be transported to a realm where purity meets irresistible aroma.
Crafted for Flavorful Moments:
🍛 Elevate Your Cuisine: Elevate your everyday meals into gourmet experiences with our Vangibath Powder/Masala. Carefully concocted, it infuses an explosion of flavors into every dish, turning even the simplest ingredients into culinary masterpieces.
Benefits:
🌶️ A Melange of Spices: Our Vangibath Powder/Masala boasts a blend of meticulously selected spices, each known for its distinct flavor profile and health benefits.
🍃 100% Natural: Embrace the authenticity of natural goodness. Our Vangibath Powder/Masala is free from artificial additives, colors, and preservatives, ensuring a genuine flavor that resonates with nature's bounty.
🌶️ Spice Up Your Health: Delight in the union of taste and well-being. The spices infused in our blend are renowned for their potential to boost metabolism, aid digestion, and promote overall vitality.
Ways to Savor:
🍲 Vibrant Creations Await: Unleash your culinary creativity and explore an array of dishes. From the classic Vangi Bhaat to innovative twists, our Vangibath Powder/Masala harmonizes exquisitely with various recipes.
🍛 Simple to Sensational: Whether you're a seasoned chef or an aspiring home cook, our Vangibath Powder/Masala effortlessly transforms your meals into gastronomic adventures.
Suggested Culinary Voyages:
🍆 Vangi Bhaat Extravaganza: Indulge in the timeless charm of Vangi Bhaat, where the captivating blend of our masala enhances the brinjal-infused rice dish with an irresistible allure.
🍛 Majestic Pulao Fusion: Elevate your pulao game by infusing our Vangibath Powder/Masala. The fragrance and flavors will dance in harmony, promising a royal feast for your palate.
🍲 Stir-Fry Sensation: Turn mundane stir-fries into a flavor fiesta. Sprinkle our masala generously as you stir-fry vegetables or tofu, and watch the magic unfold.
🌶️ Elevate, Enhance, Enjoy 🌶️
Elevate your culinary creations. Enhance the richness of every bite. Enjoy the symphony of flavors that our Vangibath Powder/Masala brings to your table. It's not just a seasoning – it's an invitation to embark on a gastronomic adventure that tantalizes your senses and nourishes your soul.
🌶️ Ignite Your Taste Story Today!
Vangibath Powder / Masala
Sale price
$3.99
Regular price